One of my fellow blogger friends challenged me to participate in 5 Questions Friday. So
, Jaymee at
Catching up with the Fishers
, here goes! :)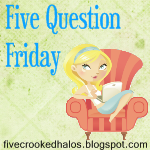 1. What are you most afraid of?
The little things: spiders, bees, and cockroaches.
The big thing:
Cancer.
It scares me to death. It strikes without warning, does not care about the age, gender, or race of its victim, and seems to be everywhere these days. I'm terrified that one day we will lose our fight against this monster and it will take away one of my loved ones.
2. Do you use a flat iron or curling iron?
I rarely curl my hair, but when I do I use the old fashioned
curling iron
.
3. Hands-free or phone to the ear?
I'm a
p
hone to the ear
kinda girl. I hate when people put me on speaker phone and don't think it is really any "safer" to us a hands-free device. I always keep one hand on the wheel, two eyes on the road, and my children's safety is my priority!!!
4. Do you have a matching bedroom set?
No
, we do not have a
matching bedroom set
...yet. :( We have slowly been adding REAL furniture to our house since moving into our first home a few years ago. The baby's room was first, Bobby inherited my husband's bedroom set from then he was a boy, and we just bought a new living room set 2 years ago. My goal is to get a new bedroom set by the time we celebrate our 10th wedding anniversary (which is in a little over 2 years).
5. Do you believe in the paranormal?
I believe in life after death and the presence of angels on earth. So to make a long answer short, I guess my answer would be
yes
. As a child growing up, I always felt like my grandma and grandpa Hobbes were watching over me. (I LOVE the song Guardian Angels by the Judds.) With the recent passing of my husband's sister, I believe she visited me as she passed into the spirit world. She stopped by my dream to say good-bye and leave me a message about her girls. I know that she is keeping her loving, guiding hands on her girls and will be with them throughout the years to come.
I hope you enjoyed learning a little more about me. Thanks for the challenge Jaymee! I'm looking forward to next Friday's 5 love questions!!!